Red Dog Blue Kat Touring the Facility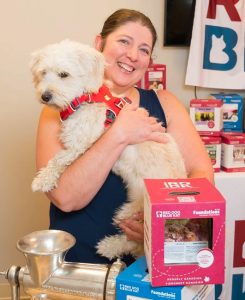 Recently, the Phoenix Rising Integrative Vet Care team was invited by Red Dog Blue Kat to tour their state of the art 13,000 square foot production facility, located in Port Coquitlam, British Columbia.
After a warm greeting by the front office staff and a few furry friends, we were taken to the back of the facility by Inna Shekhtman, the CEO & Founder of Red Dog Blue Kat to begin the tour.
Immediately upon entering the back of the facility you could notice a severe drop in the temperature.  It's a good thing that we were advised to wear warm clothing for the tour.
Inna took us to a map of the facility which was posted on the wall near the entrance.  Here she pointed out each of the rooms and their purposes. She then explained in detail how the food was processed from the time it entered the facility to the time it left, via the loading area for shipping out to the retailers.  It is a really well designed flow that keeps the food at prime temperatures all the way through the facility.   The cold temperatures ensure that disease-causing microorganisms and food-spoiling enzymes are deactivated.
The first room contains the new meat and vegetables that are being prepped for their journey through the facility.  Then there are the three massive freezers which are filled with the food in various stages of the process.  In the next room, the items are combined to make the various blends and recipes.  All of the areas are washed daily and the equipment is cleaned each time a new batch of food is ready to be produced.
Ethical Ingredients
Inna explained that Red Dog Blue Kat only uses humanely raised animal meat and wild caught fish, and all of the vegetables are certified organic.  They believe that animals raised in humane, peaceful conditions are healthier and will not contain stress hormones that could be passed on to your pet.
She went on to explain that in Canada, when it comes to pet food, the regulatory system is mostly based on trust so they decided to implement HACCP (Hazard Analysis Critical Control Points) – an internationally recognized food safety program – to ensure that RDBK had clear standards that would be verifiable and transparent to consumers.  They also have a comprehensive in-house testing program for detecting risks including a variety of bacteria and molds.  They also use bacteriophages and species-specific probiotics, mimicking nature's way of keeping pathogens in check.
We finished the tour in the conference room where we were met by Dr. Jules Mantler.  Both Inna and Dr. Mantler answered any questions that we had regarding Red Dog Blue Kat.  Overall it was a great experience and I would recommend this tour to anyone who is interested in learning more about why Red Dog Blue Kat is a brand of frozen raw pet food that is safe for pets to consume.