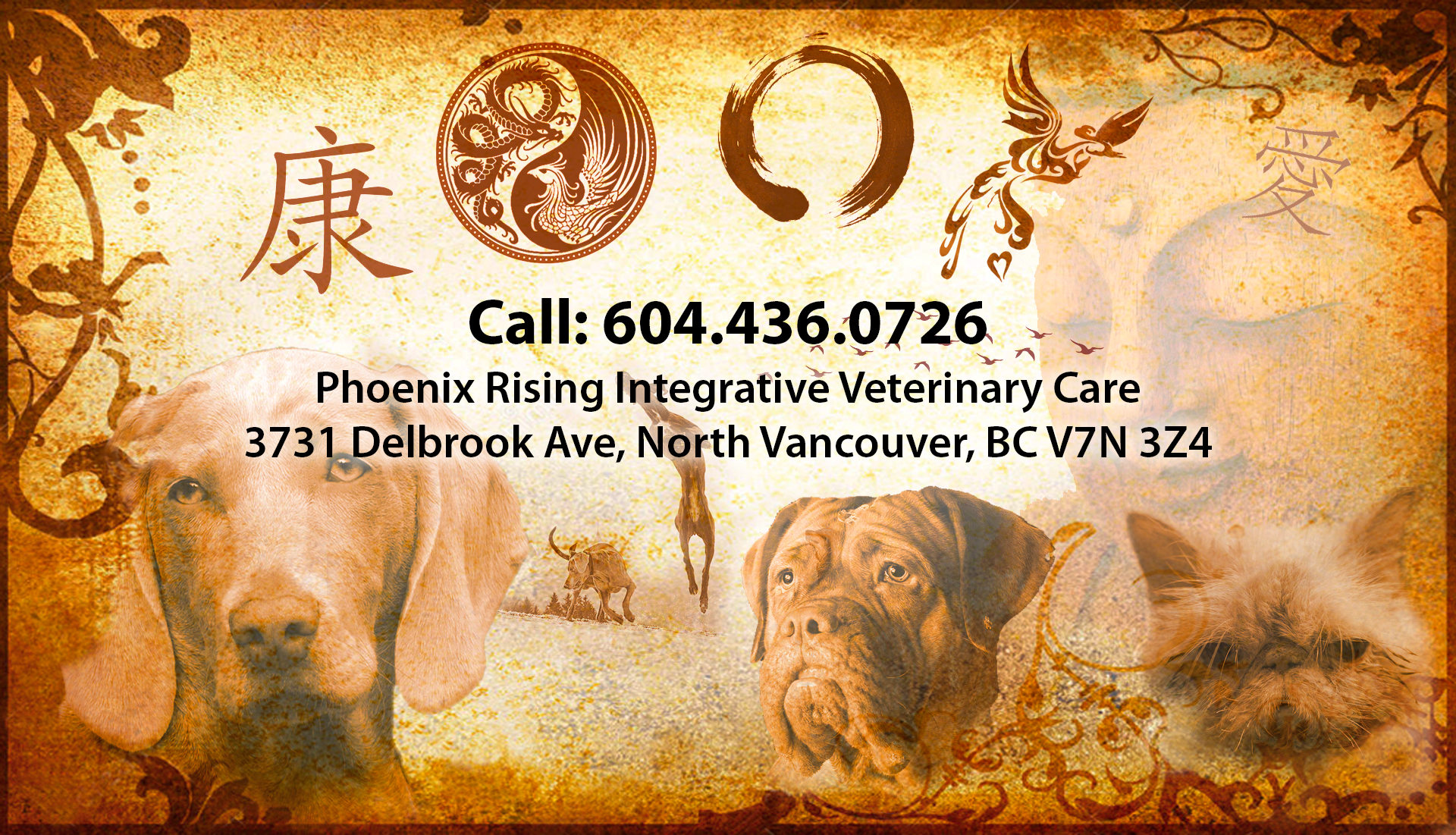 Phoenix Rising Integrative Veterinary Care
Encompassing the best in medical modalities.
About Us
---
Phoenix Rising Integrative Veterinary Care's approach to veterinary medicine is designed to minimize adverse effects while promoting successful treatment outcomes that can improve quality of life. We place the emphasis on using one or all reasonable therapies or medicines that work together towards disease prevention. This may not be possible using one system of medicine alone.
Complementary and alternative veterinary medicine include: acupuncture, Traditional Chinese Medicine and chiropractic.
We now offer Ozone Therapy.
Our Team
---
Our staff of trained professionals is always ready to offer compassionate care for pets.
We pride ourselves on our ability to diagnose the issues and offer a health care solution that is right for you and your pet's needs.
Call us to book an appointment today.
604.436.0726
Careers
---
Phoenix Rising Integrative Veterinary Care is looking for a Holistic Veterinarian to work in our fantastic spa-like spacious setting ! Whether you are looking for a fresh start or for a mid-career change , we have a great opportunity for you.
We are a fast growing, holistic practice located in North Vancouver, British Columbia w and are looking to expand and welcome another like-minded individual to our team.
This is a fun but very busy practice with a strong focus on acupuncture, chiropractic, rehabilitation and Traditional Chinese Medicine. In addition, we offer integrative modalities such as ozone therapy/UV light and Platelet Rich plasma/Prolotherapy as treatment options.
An interest or experience in homeopathy would be welcomed.
If you would like to join a very motivated team and be a part of our healing journey, please send your cover letter and resumé to : [email protected]
Are you a fiery, passionate inspired veterinary technician that loves to work and learn and grow every day? If you are and if you have the experience, you will love Phoenix Rising Integrative Veterinary Care. Every appointment  and every day is an exciting new opportunity. You will be exposed to multiple modalities, equipment and techniques to heal and enrich our patients lives !!!  IV ozone and UV light, Platelet Rich plasma, Live Blood analysis – these are just a few of our innovative treatment options.
If you are looking for a new kind of practice in a spa-like setting, fast-paced yet soothing, jump at it and send us your resumé with a cover letter to [email protected].
2021 is the year to grow, come and join us on this exciting, motivating journey of healing.
Ask about PRP and Stem cells
for tendon & ligament injuries.
WHAT WE DO
Integrative Veterinary Care Services
---
We are proud to offer integrative veterinary care services. Integrative medicine combines conventional Western medications and diagnostics with knowledge of Eastern medicine techniques to offer well rounded care for our patients.
SOME VIDEOS FROM OUR LIBRARY
Watch our Latest Videos
---
Media from Phoenix Rising Integrative Veterinary Care.
STAY IN THE LOOP
Latest From The Blog
---
Follow our blog to stay up to date with all of the latest announcements and new information from Phoenix Rising Integrative Veterinary Care.
Red Dog Blue Kat Touring the Facility Recently, the Phoenix Rising Integrative Vet Care team was invited by Red Dog Blue Kat to tour their state of the art 13,000 square foot production facility, located in Port Coquitlam, British Columbia. After a...
GET IN TOUCH
Call 604.436.0726 for appointment.
Phoenix Rising Integrative Veterinary Care
3731 Delbrook Ave, North Vancouver, BC V7N 3Z4
Hours of Operation:
Mon: 8:00 am – 4:00 pm
Tue: 8:00 am – 4:00 pm
Wed: Closed
Thu: 8:00 am – 4:00 pm
Fri: 8:00 am – 4:00 pm
Sat: Closed
Sun: Closed
Cancellation Policy
Phoenix Rising Integrative Vet Care is committed to providing all of our patients with exceptional care. When a patient cancels without giving enough notice, they prevent another patient from being seen.
Please call us at 604.436.0726 48 hrs before your appointment to cancel. If prior notification is not given, you will be charged $125. for the missed appointment.
Once specialized procedures are booked there is a cancellation fee of $50 which comes into place immediately after the booking. This is because procedures are performed at another clinic and there is a tremendous amount of work involved in coordinating with the other clinic.